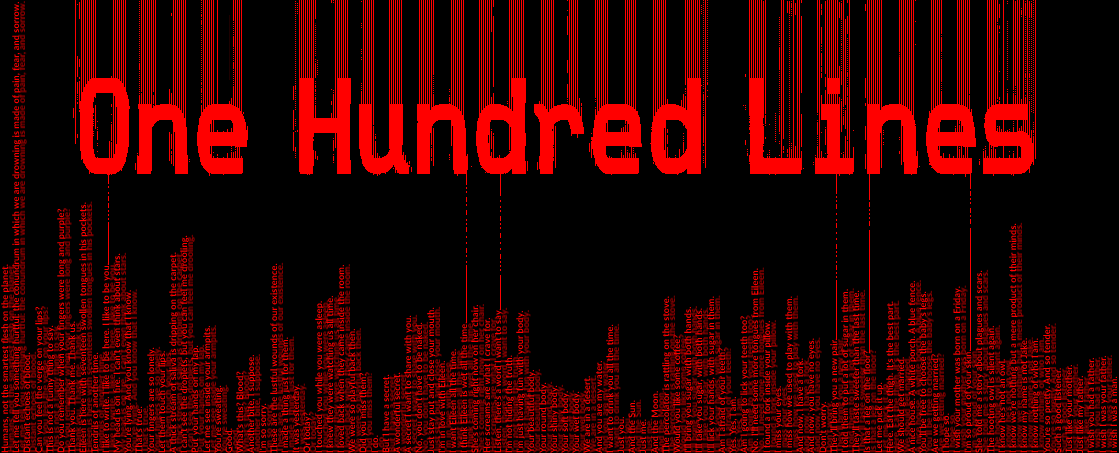 One Hundred Lines
A downloadable game for Windows
One Hundred Lines
Humans, not the smartest flesh on the planet.
Let me tell you something hurtful: the conundrum in which we are drowning is made of pain, fear, and sorrow.
Distant echoes of blood.
Can you feel the verge on your lips?
This is not a funny thing to say.
Do you remember when your fingers were long and purple?
Thank you. Thank me. Thank us.
Eileen is here with seventeen swollen tongues in his pockets.
Tendrils of another time.
I like to write. I like to be here. I like to be you.
My head is on fire. I can't even think about stars.
You're lying. And you know that I know.
That's true.
Your fingers are so lonely.
Let them touch your lips.
A thick stream of saliva is dripping on the carpet.
I can't see the droplets, but you can feel me drooling.
Put your hands on my lap.
Let me see inside your armpits.
You're sweating.
Good.
What's this? Blood?
Another bite, I suppose.
I'm so sorry.
These are the lustful wounds of our existence.
I made a thing just for them.
It was yesterday.
Or today?
I touched you while you were asleep.
I knew they were watching us all time.
I loved back when they came inside the room.
We were so playful back then.
Did you miss them?
I do.
But I have a secret.
A wonderful secret.
A secret I want to share with you.
No, you don't have to be naked.
Just stay put and close your mouth.
I'm in love with Eileen.
I want Eileen all the time.
I think Eileen is wet all the time.
She's coming right now on her chair.
Her screams are what I crave for.
Listen, there's a word I want to say.
I'm not hiding the truth.
I'm just having fun with your body.
Your beautiful body.
Your round body.
Your shiny body.
Your soft body.
Your wet body.
We are in a desert.
And you are my water.
I want to drink you all the time.
Just you.
And the Sun.
Just me.
And the Moon.
The percolator is rattling on the stove.
Would you like some coffee?
I'll bring you sugar with both hands.
I'll take you sugar, with both hands.
I'll lick your hands, with sugar in them.
Am I afraid of your teeth?
Yes. Yes, I am.
Am I going to lick your teeth too?
No. I'll need some more tongues from Eileen.
I found a fork inside your pillow.
I miss your eyes.
I miss how we used to play with them.
And now, I have a fork.
And now, you have no eyes.
Don't worry.
They'll bring you a new pair.
I told them to put a lot of sugar in them.
They'll taste sweeter than the last time.
Is that a leg on the floor?
Let me pick it up.
Here. Eat the thigh. It's the best part.
We should get married.
A nice house. A white porch. A blue fence.
You'll be free to choose the baby's legs.
Are we getting married?
I hope so.
I wish your mother was born on a Friday.
I'm so proud of your skin.
She told me a story about plagues and scars.
The hooting owl is silent again.
I know he's not an owl.
I know we're nothing but a mere product of their minds.
I know my name is not Jake.
I know nothing of who I am.
You're so pretty. And so tender.
Such a good listener.
Just like your mother.
Just like my father.
I wish you had a father.
I wish I was your father.
I wish I was a man.
---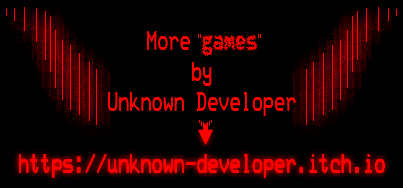 ---

| | |
| --- | --- |
| Status | Released |
| Platforms | Windows |
| Author | Unknown Developer |
| Genre | Adventure |
| Tags | 3D, Atmospheric, Dark, Exploration, Horror, mind-bending, secrets, Surreal, suspense, weird |
| Average session | A few minutes |
| Inputs | Keyboard, Mouse |
Download
Click download now to get access to the following files:
One Hundred Lines.exe
10 MB